Web browsers, Known and unknown browsers.
---
---
Camino (Mac)
Camino's main aim is to integrate as well as possible with the Mac OS. It uses the Aqua user interface and integrates a number of Mac OS X services. E.g. you can use Keychain for password management and Bonjour for scanning available bookmarks across your local network.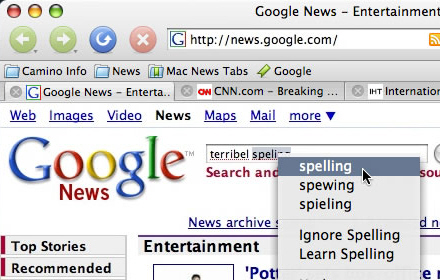 You can migrate your Firefox data and extend Camino in similar ways, using differences in keyboard shortcuts described on the site. Camino uses the Gecko rendering engine, what is not typical for Mac OS applications. Camino also offers the feed detection, spell-checking, session saving and more. "Single window mode" tames sites that insist on opening new windows by forcing their new windows to open in tabs, keeping window clutter to a minimum. Open Source.
GreenBrowser (Windows)
Not that this browser is actually green, but it's a fresh, light and quite promising application with many useful tools you won't find in your favourite web browsers. For instance, you can add the shortcuts of frequently used software applications in an external toolbar. Afterwards you can also set the option "Auto Start with GreenBrowser" or "Auto Close with GreenBrowser" to handle multiple applications at a time.

Besides, the browser also shows the state of the page; you can observe whether a file is downloaded, read or not, locked, protected, saved or bookmarked.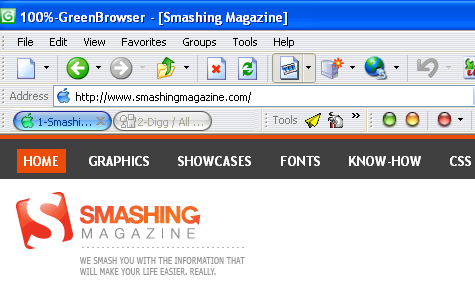 Among available options you'll also find an ad filter, mouse gestures recognition, auto fill form, auto scroll, auto refresh, auto save, auto hide, quick key, skins and other features. Multiple languages are available. Unfortunately, the browser uses Trident as a rendering engine. 1.3 Mb.
Slim Browser (Windows)
Slim Browser is a tabbed multiple-site web browser that uses the Microsoft Trident rendering engine. That means that you can rescale tabs and group them within your browser as standalone windows. Slim Browser incorporates many useful features such as skinned window frame, hidden sites, built-in commands and scripting, RSS feed reader, blacklist / whitelist filtering and URL Alias.
Tabs can be saved in groups, which can then be opened at any time from the groups menu. You can also open only sites from that group, or have SlimBrowser open a group on startup. If the browser crashes, the opened tabs will be restored automatically.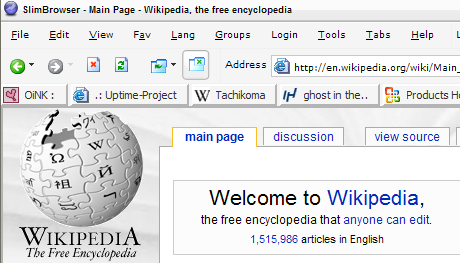 Auto login enables you to to create an instant shortcut to a website you would normally need to type a username and password for – Slim Browser does it automatically.
---
---